The Mission
Our mission is to foster and support the development of aging with physical activity across the world, leading to better outcomes.
The Vision
SAPA is dedicated to supporting programs concerning education and training, publishing journals and books, and convening meetings, conferences, workshops, careers, and colloquia.
Contact Us
Your Text Your Text Your Text Your Text
Your Text Your Text Your Text Your Text
Your Text Your Text Your Text Your Text
Your Text Your Text Your Text Your Text
Your Text Your Text Your Text Your Text
Your Text Your Text Your Text Your Text
Your Text Your Text Your Text Your Text
Your Text Your Text Your Text Your Text
Your Text Your Text Your Text Your Text
Your Text Your Text Your Text Your Text
Published Articles of SAPA's Scientific Board in Aging Research
Plasma retinol-binding protein-4 and tumor necrosis factor-α are reduced in postmenopausal women after combination of different intensities of circuit resistance training and Zataria supplementation
Zataria
is a plant with anti-inflammatory properties, which has been used for the treatment of many diseases. The results demonstrate clearly that in postmenopausal women, circuit resistance training both at low and moderate intensities cause a greater reduction in RBP-4 and TNF-α when
Zataria
is supplemented in the diet during training.
Sport Sci Health.
2019;15(3):551-558.
doi: 10.1007/s11332-019-00544-2
Exercise Training Improves Lipid Profile in the Elderly: A Systematic Review and Meta-Analysis of Randomized Controlled Trials
Diako Heidary, Bakhtyar Tartibian, Aref Mehdipour
This systematic review and meta-
analysis found that the elderly can improved their lipid profiles by participating
in aerobic and combined exercise training programs. Further studies on the
physiologic effects of exercise training on lipid profiles are needed.
Aging Medicine and Healthcare. 2022;13(4):193-200.
doi: 10.33879/AMH.134.2021.10095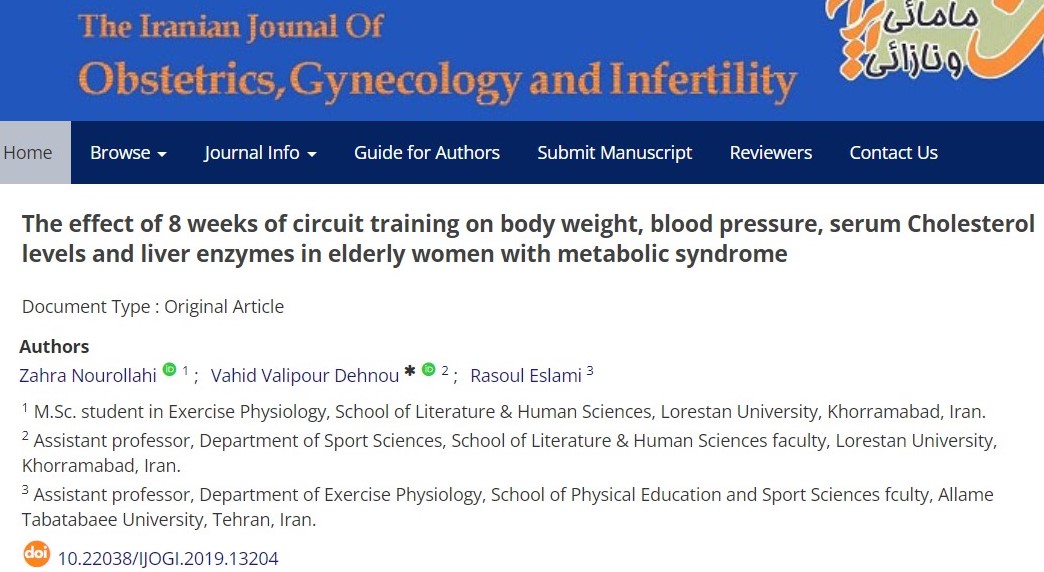 The effect of 8 weeks of circuit training on body weight, blood pressure, serum Cholesterol levels and liver enzymes in elderly women with metabolic syndrome
Zahra Nourollahi, Vahid Valipour Dehnou, Rasoul Eslami
Inactive lifestyle is a very important risk factor for the development of many diseases, including metabolic syndrome. In aging, in addition to aging-related problems, some elderly people develop metabolic syndrome. The circuit training in elderly women with metabolic syndrome has beneficial effects on serum concentration of AST, ALT and cholesterol; also it reduces systolic blood pressure and body weight, therefore can promote their health.
Effects of Resistance Training on Performance and Physiological Indices in Patients with Ischemic Stroke: A Systematic Review and Meta-Analysis
Morteza Tayebi, Diako Heidary, Aref Mehdipour
Resistance training improves the performance of patients with ischemic stroke. This improvement occurs in the upper and lower body, but resistance training did not improve physiological parameters in ischemic stroke patients.
J Mazandaran Univ Med Sci. 2022;32(208):164-178.
URL:
https://jmums.mazums.ac.ir/article-1-17879-en.html
Relationship between the Level of Physical Activity and Nutritional Status with Fatigue in Elderly Residents of Rest Homes in Tehran
Bakhtyar Tartibian, Mehdi Kushkestani, Shiva Ebrahimpour Nosrani, Mohsen Parvani
Fatigue is one of the most important indicators of aging syndrome. The findings of this study indicate that holding sports classes under the supervision of exercise physiologists is an essential matter to increase health and prevent age-related complications in elderly residents of Tehran rest homes.
New Approches in Exercise Physiology. 2022; 4(7), 77-90.
doi: 10.22054/nass.2020.10761

The effects of high-intensity interval training on oxidant and anti oxidant balance and motor performance indeces in older adults
Rasoul Eslami, Parham Amini, Bakhtyar Tartibian
Increased free radicals and oxidative stress are among the factors that accelerate the aging process. HIIT can be use as a usefull exercise training method in the elderly with mention to training consideration.
Journal of Practical Studies of Biosciences in Sport. 2022;x(x):inpress.
doi:
10.22077/jpsbs.2022.5302.1718
The Effects of High Intensity Interval Training on Mir-23a Expression and Related Factors Involved in Muscular Atrophy of Aged Rats
Seyed Morteza Tayebi, et al.
Among the epigenetical factors involved in muscular atrophy in aging, Mir-23a is subjected to change due to an alternation in intercellular calcium levels. It seems that HIIT could improve muscular atrophy- as a result of aging- and this happens through Calcineurin signaling factors & ROS modification.
Prediction of Osteoporosis by K- NN Algorithm and Prescribing Physical Activity for Elderly Women
Bakhtyar Tartibian, Leila Fasihi, Rasul Eslami
Considering various pre‌dictors associated with low bone density, the K-NN algorithm may be an ef‌fective tool for identifying women at high risk for osteoporosis. This method widely recommends and predicts regular resistance and endurance training exercises for women with a high risk of osteoporosis.
The Effects of High-Intensity Interval Training on Skeletal Muscle Morphological Changes and Denervation Gene Expression of Aged Rats
Seyed Morteza Tayebi, Marefat Siahkouhian, Mohammad Keshavarz, Mojgan Yousefi
Muscle denervation is one of the most critical pathological factors involved in muscle atrophy as a result of ageing. It seems that HIIT could improve ageing-induced muscular atrophy, although denervation-involved gene modification leads to an increase in the muscular cross-sectional area; therefore, it improves muscular atrophy due to ageing.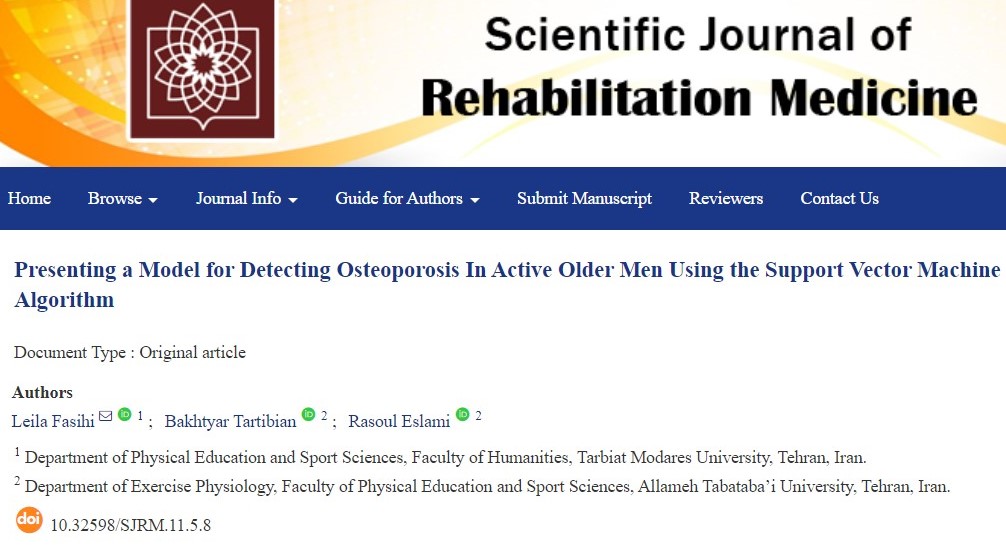 Presenting a Model for Detecting Osteoporosis In Active Older Men Using the Support Vector Machine Algorithm
Leila Fasihi, Bakhtyar Tartibian, Rasoul Eslami
Fractures due to osteoporosis impose high economic costs on patients and the health care system. Data mining has many applications in various fields, including medicine and sports, due to its ability to process large amounts of data and reduce detection time. By discovering hidden patterns and relationships in the data, the SVM algorithm can help improve the quality of diagnostic services for osteoporosis.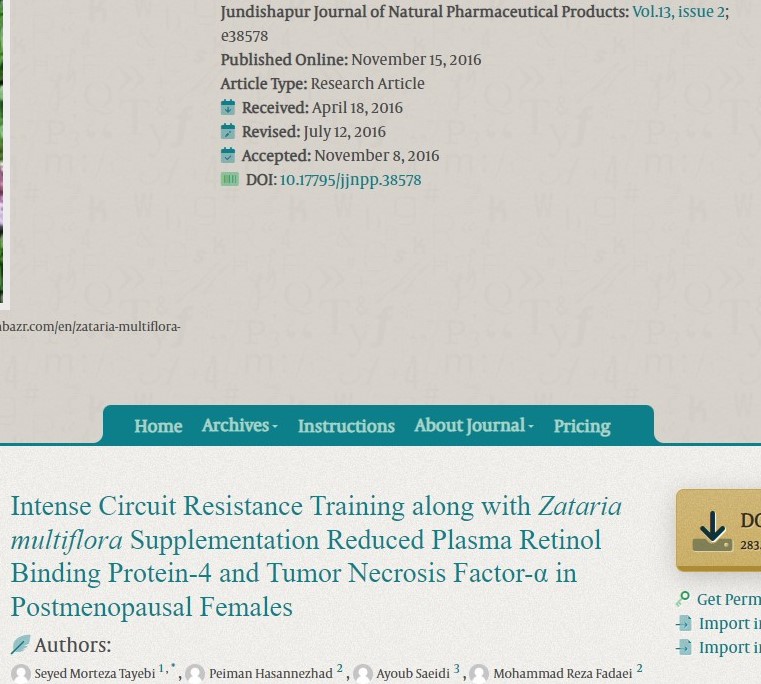 Intense Circuit Resistance Training along with Zataria multiflora Supplementation Reduced Plasma Retinol Binding Protein-4 and Tumor Necrosis Factor-α in Postmenopausal Females
Seyed Morteza Tayebi, Peiman Hasannezhad, Ayoub Saeidi, Mohammad Reza Fadaei
The current study showed that intense CRT causes significant reduction only in plasma RBP-4; but this reduction was higher in RBP-4 and also in TNF-α, when ZMSuppl was added to CRT. Therefore, it may be an effective method to reduce disorders and abnormalities related to inflammatory factors resulting from menopause.
Jundishapur Journal of Natural Pharmaceutical Products. 2016; 13(2), e38578.
doi: 10.17795/jjnpp.38578
Association between serum vitamin D and femoral bone mineral density in active and inactive elderly women
Bakhtyar Tartibian, Leila Fasihi, Rasoul Eslami
the results showed that there was a significant relationship between BMD and serum vitamin D of all participants. Therefore, in adulthood and old age, this blood variable can be used to identify 70-85-year-old people at risk of osteoporosis.
Newsletter subscription
Enter your email address to have site news and announcements delivered directly to your inbox.
Site Statistics
Registered users: 6 users
Online users: 0 users
Guest users: 1 users
All visits: 21682 visits
Visits in 24 Hours: 394 visits